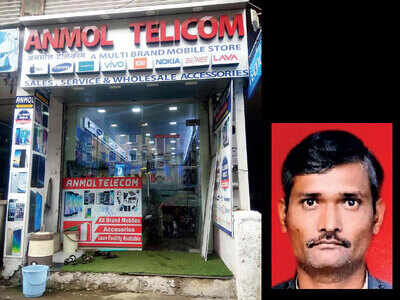 Accused took advantage of wholesalers' trust during festival sales; sold some items in Peths and at Surat

Amobile phone retailer has been booked for allegedly collecting smartphones, tablets and laptops worth over Rs 90.96 lakh from around 15 wholesalers across Pune on credit, before fleeing the city. Now, Sahakar Nagar police have registered a cheating case against him as of Tuesday.
The accused, identified as Madho Singh Rajput (53), is a native of Sirohi in Rajasthan. He had been residing in Pune for over three years. In the last one year, Rajput has been co-running a shop named Anmol Telecom near Ellora Palace in Dhankawadi. In this time, he managed to gain the trust of local wholesalers and amassed electrical goods ahead of festival season, before disappearing.
In the ensuing probe, it was found that the suspect had even sold some of these products for half their value at Surat in Gujarat, besides the Peth areas of Pune.
The matter came to light when a few aggrieved mobile phone vendors approached two advocates, Pushkar Patil and Anuj Mantri, in a bid to recover their goods via legal means.
"Six different mobile phone vendors approached us on back-to-back days until November 8 to recover their money from the same person. We initially told our clients that we will send legal notices after Diwali, as the post office was on holiday. Eventually, the matter appeared too fishy, so we approached police sensing a massive case of fraud," shared advocate Patil.
Rajput, who had shut shop on Dhanteras day, escaped before the police could catch him. Police inspector Anil Shewale of Sahakar Nagar police station said, "It is a practice among gadget wholesalers to give devices on credit, so as to push more mobile phones into the market during festivals, making it easier to clear their stocks. No cheques or guarantees are taken. The suspect made good out of this trend and absconded from the state."
The suspect was not living with his family, but has a relative residing at Narhe, who has been summoned by the police for questioning.
"The value of the scam could easily be above Rs 1.5 crore, as their quoted price excludes profits made by Rajput. He took away several highvalue gadgets, including the iPhone X," added advocate Patil.
For now, he has been booked under section 420 (cheating) and 406 (criminal breach of trust) of the Indian Penal Code (IPC).
["source=forbes]